Well we've just returned from two weeks in Tasmania. We had a lovely holiday, spending time with family and visiting friends, but also travelling around just the three of us. Our first family holiday!
We caught the Spirit of Tasmania car ferry overnight from Melbourne. First stop was Adventure Bay on Bruny Island, which is an island to the south west of Hobart. You also reach this island by car ferry, but it only takes 10 minutes, not 10 hours! We spent a week with my parents, as well as with my two brothers, sister-in-law and nephews. There were 12 of us in our parents' two-bedroom beach shack. It was chaotic but fantastic that we were all there together.
After our week on Bruny Island, we spent 3 days in Hobart just mooching about and meeting up with my friend Kate and her partner Pete. It was lovely to see them. We had hoped to catch up with some of our other Tassie-based friends, but they were away and we ran out of time!
From Hobart we travelled up to Cradle Valley in the heart of Tasmania. The feature of the valley is Cradle Mountain, a craggy peak that stands over a very picturesque Dove Lake. We had fantastic weather (a first for both of us) and took Romy for a walk part-way around the lake. I strapped Romy into the Baby Bjorn and carried an umbrella to protect her skin from the sun - we looked like we were on safari!
After two short days we headed east to Launceston. The weather was great when we got there but the next few days saw clouds and rain descend upon our holiday. Maybe this was a sign from the gods that it was time to go home, as poor little Romily came down with a temperature and did a huge vomit at Seahorse World in Beauty Point - of all places!!
Launceston's main attraction is the Cataract Gorge and we took a boat trip up part-way and then walked up the side of the gorge to have lunch at a restaurant at the head of the gorge.
Our planned catch-up with friends Mike and Kim was cancelled, but fortunately we were able to have coffee with Mike the next day before we headed back to Devonport to take the ferry across to Melbourne. It was my brother's 30th birthday, so we went straight from the ferry into town to shout him lunch. After a sinful plate of pancakes each, it was off to Bendigo for the three of us for a night before the long drive back to Canberra.
Romily's granddad was thrilled to see her and loved having his only grandchild in the house for the third time this trip. He bought her a Jolly Jumper for Christmas and by the time we got back to his house in Bendigo after our Tasmanian trip Romily had worked out how to jump high in it! She is an absolute crack-up in it and she just cacks herself laughing. We only let her jump around for 10-15 minutes at a time otherwise she would jump herself to the point of exhaustion. She just loves it.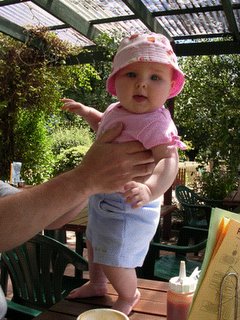 Romily travelled really well, although after 5 weeks on the move she was becoming a bit fractious and was sick of being strapped into her carseat. We decided that one of us would sit in the back on the way home and that helped Romily sleep better on the way back. It took us 9 1/2 hours from Bendigo to Canberra with 3 stops, instead of the 11 hours and 4 stops it took on the way down. We'll be able to turn her seat around to face forward soon, which will make travelling a little easier for all of us!
We had a fabulous time - loved Tassie and reconfirmed our desire to settle there eventually. We also loved coming home. There really is no place like it!